Quality Policy
Whiteline Transport's quality and reliability is the concern of all our staff – not just the responsibility of the owners. This is reflected right from the initial planning of activities through all subsequent phases in our service schedule.
A 'do it right first time' approach is the key to our delivery of:
✓ Quality
✓ Value for money
✓ A safe operation
✓ Reliable services
✓ Efficiencies
✓ Customers
Whiteline Transport enjoys working with and promoting customer products. If our customers are busy, we are too. Many of our trailers are mobile billboards advertising our clients and their products. We've also been used to promote safety campaigns.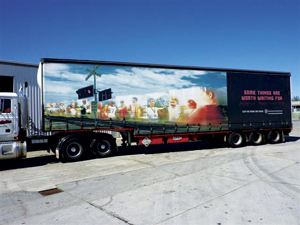 Whiteline Transport is continually looking for ways to improve its operations. We operate on a system whereby each of our drivers are allocated the same truck and, where possible, the same routes. This allows our drivers a sense of ownership, pride and responsibility in the vehicle, and the ability to plan a life away from behind the wheel.
An advantage of running a large fleet is that Whiteline trucks are always travelling in reasonable proximity to each other, so an immediate backup is available in the unlikely event of a breakdown. Urgent deliveries will never be stranded.