Kevin Cartwright
Linehaul driver for Whiteline since 1985, in Parliament House, Canberra winning the award for Australian Truck Driver of the Year.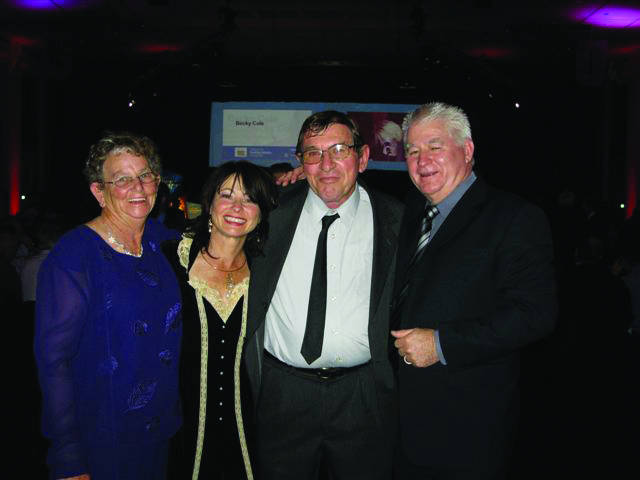 SARTA nominated Kevin Cartwright of Whiteline Transport, for the Australian Truck Driver of the Year and last Friday night, in front of over 500 industry people in the Great Hall of Parliament House in Canberra, KC was announced as the winner of the ATA's prestigious Award.
KC, second from the left between his employers and friends, Sharon and Bob Middleton and his partner Lorna at the left, are pictured here celebrating shortly after the announcement in the Great Hall of federal Parliament House, Canberra.
With over 12 million kms INCIDENT FREE over his 44 year career, the last 23 of which have been with Whiteline, KC is a most deserving recipient of this great honor.
Like most of his predecessors, KC is a quiet sort of fellow and he was most humble when he accepted the Award but he got off a great parting short at the end of his speech when he said:
"It's a tough life but it's a good life and I guess that's why I've been doing it for 44 years.
But I wouldn't mind seeing some consistent laws across the states before I retire because sometimes it feels like I'm working in several countries."
Given that the lack of uniform laws was one of the hot topics (and complaints by operators) throughout the Convention, it's no surprise that KC backed this up in what is probably the only speech he's ever made since his wedding!
Kevin and SARTA thank the sponsors of the ATA Award: NTI, BP and Volvo (ATA Foundation Sponsors) and ATN and Owner Driver magazines as well as the sponsor of SARTA Driver of the Year Award, the CMV Group.