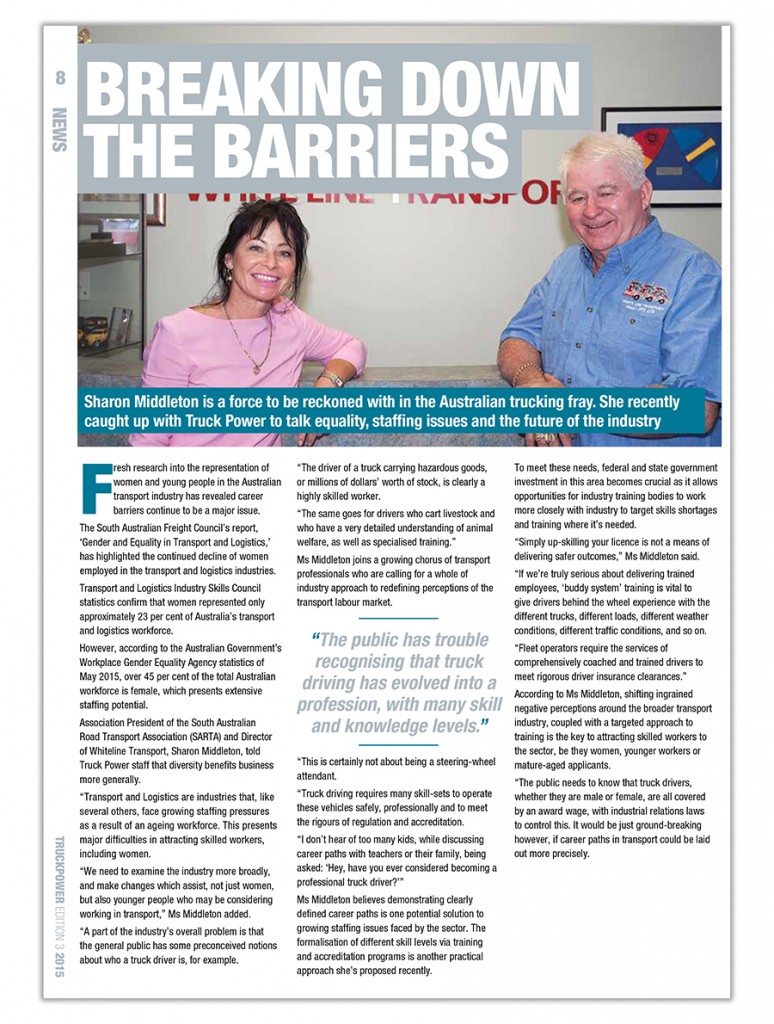 Full transcript below
BREAKING DOWN THE BARRIERS
Sharon Middleton is a force to be reckoned with in the Australian trucking fray. She recently caught up with Truck Power to talk equality, staffing issues and the future of the industry.
Fresh research into the representation of women and young people in the Australian transport industry has revealed career barriers continue to be a major issue. The South Australian Freight Council's report, 'Gender and Equality in Transport and Logistics,' has highlighted the continued decline of women employed in the transport and logistics industries.
Transport and Logistics Industry Skills Council statistics confirm that women represented only approximately 23 per cent of Australia's transport and logistics workforce.
However, according to the Australian Government's Workplace Gender Equality Agency statistics of May 2015, over 45 per cent of the total Australian workforce is female, which presents extensive staffing potential. Association President of the South Australian Road Transport Association (SARTA) and Director of Whiteline Transport, Sharon Middleton, told Truck Power staff that diversity benefits business more generally.
"Transport and Logistics are industries that, like several others, face growing staffing pressures as a result of an ageing workforce. This presents major difficulties in attracting skilled workers, including women. "We need to examine the industry more broadly, and make changes which assist, not just women, but also younger people who may be considering working in transport," Ms Middleton added. "A part of the industry's overall problem is that the general public has some preconceived notions about who a truck driver is, for example.
"The driver of a truck carrying hazardous goods, or millions of dollars' worth of stock, is clearly a highly skilled worker. "The same goes for drivers who cart livestock and who have a very detailed understanding of animal welfare, as well as specialised training." Ms Middleton joins a growing chorus of transport professionals who are calling for a whole of industry approach to redefining perceptions of the transport labour market.
"This is certainly not about being a steering-wheel attendant. "Truck driving requires many skill-sets to operate these vehicles safely, professionally and to meet the rigours of regulation and accreditation. "I don't hear of too many kids, while discussing career paths with teachers or their family, being asked: 'Hey, have you ever considered becoming a professional truck driver?'"
Ms Middleton believes demonstrating clearly defined career paths is one potential solution to growing staffing issues faced by the sector. The formalisation of different skill levels via training and accreditation programs is another practical approach she's proposed recently.
To meet these needs, federal and state government investment in this area becomes crucial as it allows opportunities for industry training bodies to work more closely with industry to target skills shortages and training where it's needed.
"Simply up-skilling your licence is not a means of delivering safer outcomes," Ms Middleton said.
"If we're truly serious about delivering trained employees, 'buddy system' training is vital to give drivers behind the wheel experience with the different trucks, different loads, different weather conditions, different traffic conditions, and so on.
"Fleet operators require the services of comprehensively coached and trained drivers to meet rigorous driver insurance clearances."
According to Ms Middleton, shifting ingrained negative perceptions around the broader transport industry, coupled with a targeted approach to training is the key to attracting skilled workers to the sector, be they women, younger workers or mature-aged applicants.
"The public needs to know that truck drivers, whether they are male or female, are all covered by an award wage, with industrial relations laws to control this. It would be just ground-breaking however, if career paths in transport could be laid out more precisely.
end.
…………………………………………………………………………………………………………………………………………..
Contact Truck Power: Arkajon Communications Pty Ltd, PO Box 7242, Melbourne, Victoria, 3004.
Phone: 03 9867 5611 Fax: 03 9867 5711 Email: truckpower@arkajon.com.au
…………………………………………………………………………………………………………………………………………..